Feel better by doing a visible acitivity every day (1 minute read)
Here continues the post on how you can handle tough life situations like this crisis by changing your attitude.
You can do this by developing your sense of coherence and its dimensions:
Understandable
Manageable
Meaningful
Manageable means a belief that:
– We have the skills, abilities, support, help or resources needed to handle the situation.
– Things are manageable and within our control.
To think about:
According to research, an important way to increase the sense of manageability is to be more active in our daily environment. It can be doing things that you have not planned, preferably something symbolic that you see every day, such as:
Making the bed.
Cultivate seeds.
Clean up a messy place.
If you want an even better effect, you should have a list of such small projects visible and mark the completed activity. This has a great effect on the experience of control over our everyday lives. Also, it proves that you actually are trying to make a difference.
More information
If you have any questions you would like answered, you can write them in the comments field or email me at jennyrapp@jennyrapp.com.
Find more free inspiration on how to calm acute stress and anxiety, and be free with psychology at https://www.jennyrapp.com/
Courses in personal development at https://www.jennyrappbefree.com/:
Self-esteem: How to develop self-esteem and boost your confidence
Stress management: Be free from stress
Exhaustion: Be free from exhaustion & regain your strength
Personal development: Be free with powerful insights from psychology
HSP: How to manage feelings, thoughts & needs
Relationships & inner strength: How to create a balanced life & reach your potential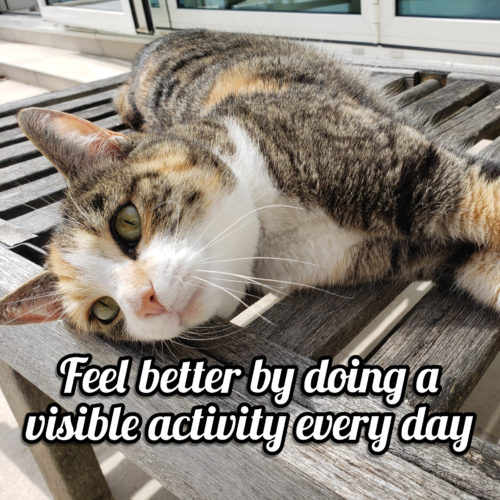 #calm #worry #comfort #emotions #secure
#forgiveness #fear #anxiety #wwwjennyrappcom #jennyrappbefreecom
#change #feelings #selfhelp #wellbeing #faith #trust
#selfworth #love #life #happy #motivation #healthy #inspiration
#befree #selfesteem #psychology #flow #selflove #proud