Sense of coherence SOC – Feel better by joining new contexts
Acceptance & hope
Here continues my answer to the question:
What can you do when you are forced to stay at home for a longer time period during these times?
Earlier posts have been about how to deal with negative and worrying thoughts by changing your attitude, more specifically, your sense of coherence. Most recent posts have been about taking perspectives and formulate an intermediate position between both what is:
– Understandable and incomprehensible
– Manageable and unmanageable
– Meaningful and meaningless
Another important way to feel better is to find new contexts such as an organization that shares your values.
To consider:
What causes have you considered participating in?
Which organizations have you considered joining?
Is there any theme or topic that you would like to create a group around?
More about this in the next post.
If you have any questions you would like answered, you can write them in the comments field or email me at jennyrapp@jennyrapp.com if you want to be anonymous.
Courses in personal development at https://www.jennyrappbefree.com/:
Self-esteem: How to develop self-esteem and boost your confidence
Relationships & inner strength: How to create a balanced life & reach your potential
Personal development: Be free with powerful insights from psychology
HSP: How to manage feelings, thoughts & needs
Stress management: Be free from stress
Exhaustion: Be free from exhaustion & regain your strength
Find more free inspiration on how to be free with psychology at https://www.jennyrapp.com/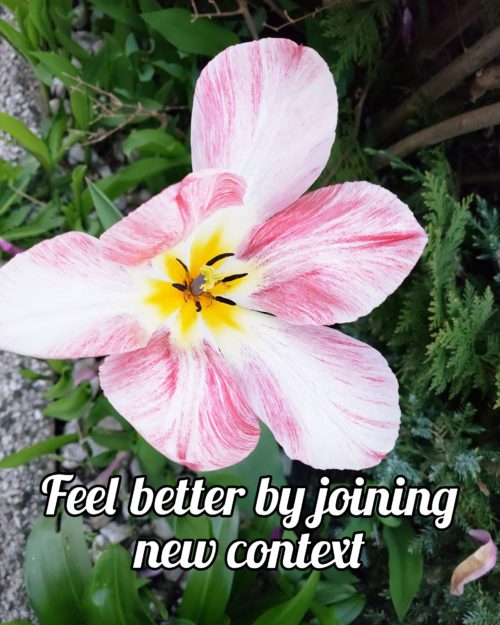 #calm #worry #comfort #emotions #secure
#forgiveness #fear #anxiety #wwwjennyrappcom #jennyrappbefreecom
#change #feelings #selfhelp #wellbeing #faith #trust
#selfworth #love #life #happy #motivation #healthy #inspiration
#befree #selfesteem #psychology #flow #selflove #proud