More ideas for how you can find your positive traits (1 minute read)
This post continues with how you can feel better during this crisis by developing both your self-esteem and your self-confidence. Here I continue with questions to help you find your 10 positive traits.
4 steps for how you can find your positive traits
Step 1: Go through a general list of positive traits, for example by making a search on the internet.
Step 2: Write down all the positive traits from that list that you think you show at least sometimes.
Step 3: Rank the positive traits you have identified that you feel reasonably sure that you have. Also, write down those you feel more doubt about but would like to have.
Step 4: See if you can recall a situation where you showed each of these traits.
Remember: It does not matter that you sometimes do not show these characteristics because of the circumstances. Either you have the ability or not. Sometimes we need to prioritize among our traits depending on the situation. It is both healthy and normal. This does not mean that you have lost all the other traits.
The crucial task is to wisely balance all your characteristics against each other with regard to what you believe is the best in a specific situation.
More on how you can increase your self-esteem in the next post. See also the free blog or the course How to develop self-esteem and boost your confidence at https://jennyrappbefree.com
More information
If you have any questions you would like answered, you can write them in the comments field or email me at jennyrapp@jennyrapp.com
Find more free inspiration on how to manage stress and be free with psychology at https://www.jennyrapp.com/
Self-esteem: How to develop self-esteem and boost your confidence
Stress management: Be free from stress
Exhaustion: Be free from exhaustion & regain your strength
Personal development: Be free with powerful insights from psychology
HSP: How to manage feelings, thoughts & needs
Relationships & inner strength: How to create a balanced life & reach your potential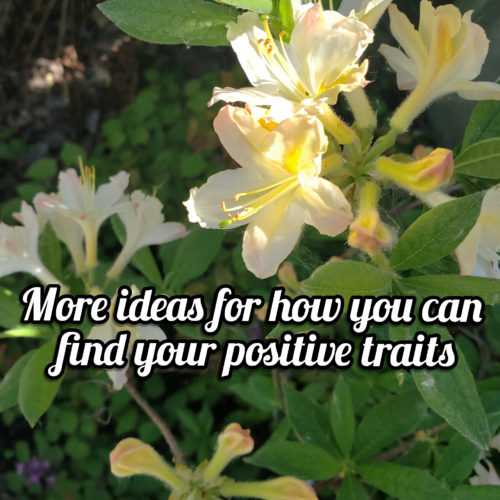 #calm #worry #comfort #emotions #secure #forgiveness #fear #anxiety
#wwwjennyrappcom #jennyrappbefreecom #change #feelings #selfhelp
#wellbeing #faith #trust #selfworth #love #life #happy #motivation #healthy
#inspiration #befree #selfesteem #psychology #flow #selflove #proud